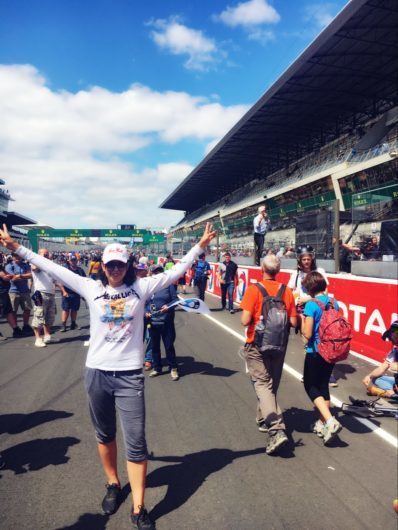 Races to Greatness
Welcome back to our monthly edition of Couture & Cars.
This month, we will explore world-renowned events in the Fashion and Automotive industries. We will take a look into the 24 Hours of Le Mans Race, and Premiere Vision Paris; these 2 events require a lot of endurance to organize and of course, to attend! For many years, I dreamed of attending the infamous 24 Hours of Le Mans Race. A pioneer in endurance motor racing, this event has provided us with a dose of adrenaline since 1923. For the most prestigious car makes in the world, this is their opportunity to see how well their perfected sports cars and their prominent racing drivers can perform within a 24-hour period. Even with pilot rotations and frequent maintenance throughout the race, a lot is at stake for both the drivers and the sports cars. On June 12th, a few days ahead of the race, we make our way from Paris to Le Mans, located about 3 hours South-West of Paris. Le Mans is a small and charming town by the Sarthe River. It is fairly peaceful– until we head out to the Pilot Parade, with massive crowds of people gathered downtown for the Grande parade des pilotes. (Grand Pilots' Parade)
Race Day: We are all packed up and ready to go. Our journey begins at the Sarthe Circuit for what ends up lasting for almost 30 hours. Some vintage Le Mans cars are on display; there are merchandise shops, giant screens with the FIFA World Cup game, a Ferris wheel, food stands, helicopter rides and a stage with live concerts at night. In other words, plenty of activities to choose from when you get tired from walking up and down the many hills.
At 3 pm, the race is launched at the sound of La Marseillaise, the French national anthem. French military jets soar over us, leaving a trail of French tricolor smoke in the sky. Tennis Champion Rafael Nadal waves the Checkered Flag. The pressure is on; 60 cars from 4 different categories roar away. 24 hours to go. Drivers and teams are eager to give their best performance and win! As the race is in progress, we witness spectacular crashes, exciting overturns and high- speed records soaring up to 343 km/h. By 3 am, many people have dozed off on the hill in their lawn chairs, their beer bottles still in their hand. I fall asleep for a few hours at a time, being casually awoken by loud exhausts. Upon my 6 am awakening, the cars are still on the track, the competition spirit is still alive. Here is a map of the famous circuit with the Mulsanne Straight, Tertre Rouge and other legendary parts of the circuit.
Every hour left gets more and more exciting. Before you know it, it's time for the final checkered flag wave.
LMP1: Toyota GR Hybrid #8
LMP2 : G-Drive #26 (United Autosports #32 Ligier was promoted to the final podium first place due non-compliance)
GTE Pro : Porsche #92 Porsche Motorsport
GTE AM : Porsche #77 Proton Racing
41 out of 60 cars made it to the finish line. The winners make a stylish finish line crossing, and a little victory lap with the crowd cheering. It's a bittersweet feeling. Our 4 category podiums take place and massive crowds flood in to watch the winners claim their prize. Although as patrons we were not behind the wheel, we definitely got a top notch experience with the energetic atmosphere. Watching cars race from sunset to sunrise was a priceless experience. This race exceeded my expectations not only because of its reputation and high ranking, but because of the commitment shown by its community of die-hard motorsports lovers, the stamina from the engineers, the pilots, and all those in-between, who year in year out, make this exciting event possible. The love of motorsports is the soul of Le Mans.
Fashionable Podiums
A very highly speculated event in the design world, Première Vision Paris offers everything from garment fabric to interior design fabrics to garment trims. It's a well curated trade show. Vendors come from all parts of the world. Each country and culture brings different style aesthetics to the table. From special fabric techniques to Eco-friendly brands, it is obvious that some countries are more driven by consumer trends than others. For example, some Asian companies tend to lead with technologically advanced fabrics such as laser cut-outs, special types of pleating and other types of avant-garde materials, like Tech Focus Fabrics. The ones that caught my eyes are from Asia & Korea with their cool 3D printing, Japanese intricate lace pleats are delightful. Countries like France or Italy tend to have more of an elaborate eye with Lace and Tweeds, which they master beautifully, such as La Dentelle de Calais (Calais Lacework). Italians display beautiful and high quality knits in any style and color you can imagine.
Reminiscently, walking for many hours to see different categories of fabrics reminded me of the many car categories present at the 24 Hours of Le Mans. Handling the exhibit in one single day is all about endurance! It is probably best to divide this visit into 2 days or so, if you really want to see everything. In between seminars and fabric sourcing, I discovered a designer named Clara Daugin.
Thermally activated clothing was displayed, as well as the creative process used. I was told the clothing had no particular purpose regarding the wiring lighting up, but it was really cool to interact with. This is a good conversation piece: Will we see more technologically advanced garments in the future? If so, what will be their role and purpose for us as consumers?  There you have it. The worlds of Couture and Cars definitely have many categories with wide ranges of products to keep us interested. Competition is always fierce. But no matter which team or brand we root for, we can all agree that we enjoy attending these events to fuel our passion for these respective industries.
Until next time Couture and Car lovers!
Don't forget to weigh in and comment!
Violette