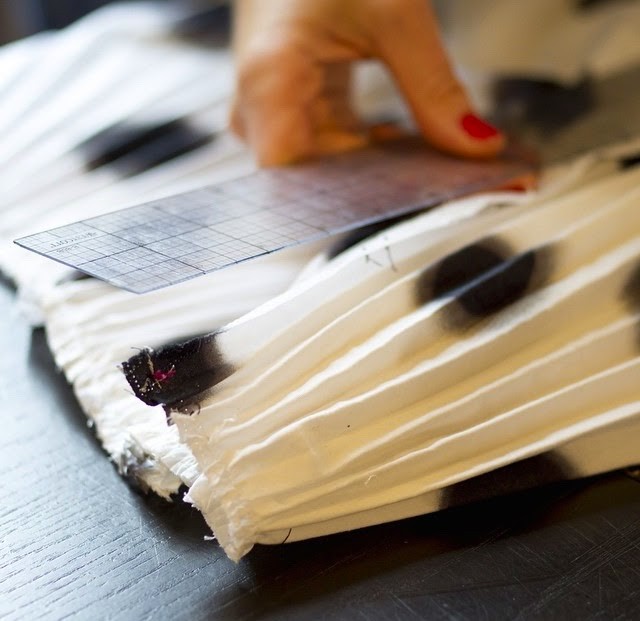 As we probably all know by now, Math and physics were never my strong points.
However, I found myself having to use mathematics quite frequently throughout my Fashion studies and with frequent garment execution, I got the hang of using Math in a practical manner.
What's the first thing that comes to your head when glancing at a vehicle or garment? The style aesthetic and its overall look, in my opinion.
Do we take in account that behind that hypnotizing beauty,lies the ideas of many people and the blood sweat and tears of those who took on the project from their minds into a wearable/drivable piece?
Source: Marc Jacobs (Instagram)
Let's not take those hard hours of work fore granted!
I love design because it gives a people a voice and ability to express themselves. When you see a great car rolling down the street, just imagine the whole process it took for it to get there. Same for clothes, when you see a complex looking garment come down the runway and wonder, how did that even get constructed?
Pagani Sketch
Design is a form of art. It takes patience, passion and perseverance…I guess those are the 3 P's!
When people see something, it is not always easy for them to pin point all of the efforts put into the design and execution. And peoples' responses affect the product's selling capability.
It is always interesting to see an item made from scratch into something practical sold on the market.
I love the way the simplest style detail can make a simple design look complex or make it look different.
Pagani Huayra at the Canadian AutoShow 2015 : Source VM Photography
Shown Above, the Pagani Huayra at The Canadian AutoShow is in my opinion a great example of an intricate design that was brought to life for a practical and of course, aesthetic purpose. The car features Carbo-Tanium (which is a mix of Carbon Fibre and Titanium), an AMG engine and many other features to make it a market rival for other supercars that were out in 2003 when the Zonda was released to compete with models such as the Bugatti Veyron (now sold out), The Ferrari Enzo (2004)and the Porsche Carrera GT.
I won't bore you with the details, but if you like to read about these kind of things here is the link :http://www.pagani.com/huayra/default.aspx.
To come back to the garments, many many hours of hand sewing and hand embroideries are done on simplistic style lines to give them that pop and uniqueness.
Balmain by Olivier Rousteing
Cars and Garments have a quite a few process points in common:
-They both start with an accurate form of drawing (for Clothes, technical flats) to show how they need to be executed to the last detail.
-They are both produced before hand in cheaper material
-Improvements and Changes are noted and executed before they can be made into a sample piece
-Samples / Prototypes are produced and are shown to buyers and tested for market and buyer response before being put on the market
-Both cars and garments can be customized in desired colours etc
And last but not least, they are both pieces of ART that last and are admired for many years down the line…bonus if they are good quality and Unique pieces.
Clothes from several eras are showcased and curated in exhibitions and for cars, evidently, there are museums where you can admire timeless beauties.
Hence, it is great to have a wide range of companies in cars and in fashion express their individuality and designs to the world. I hope to see more young talent emerge in these industries and possibly fusion them more as they are two worlds that are closer than we think!
Some Great Design houses to check out:
Fashion:

Zac Posen 
Balmain
Giambasta Valli 
Victoria Beckham (She did a collaboration with Range Rover for the Evoque)
Automotives:

Liberty Walk Kato
Koenigsegg
Hennessey 
Pininfarina 
Hope you enjoyed this post, let me know what you think xoxo
Violette