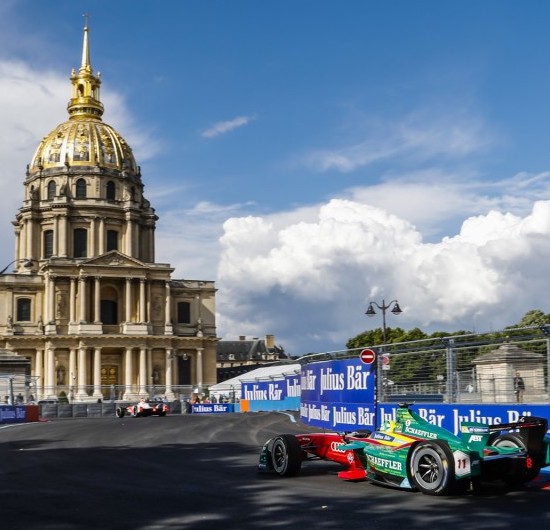 Runaway to Runways
Hello Couture & Cars readers!
Welcome to the newly redesigned Couture&Cars blog. Prepare to be immersed into the world of Couture&Cars.
I will be sharing everything – from the glamorous moments of wearing "SoViolette." custom pieces in various locations – to adventures of spending over 24 hours in summer heat with very loud exhausts on world famous racetracks.
These adventures bring us to our high-quality fashion and automotive world liaisons.
As many of you may know, it has been a little bit of a hiatus since my last post.
I embarked on a Cross-Atlantic journey, leaving my native city of Toronto, Canada to move to the city of lights: Paris, France.
Paris was my choice as it's been a second home to me for years, and having studied Fashion Design in Toronto, it was a great opportunity for me to get up close and personal with many unique events such as Paris fashion week, Haute couture week and Premiere Vision.
I was also able to attend some must-see car shows I can now cross off my bucket list, which happened to be in Europe.
Happy to have you all on board; let's kick things into gear!
Charge me up: FORMULA E PARIS 2018
Formula E, also officially known as ABB FIA Formula E Championship, is a class of auto racing that uses only electric-powered cars, therefore a Zero Emission race.
Races take place in the various circuits in cities such as Hong Kong, Mexico City, New York and Paris, of course.
Think Formula One cars, with a much more serene engine sound and no exhaust fumes.
I purchased my Formula E tickets in advance, as I was curious to see what the hype was all about.
Race Day; I arrive to the circuit built around Les Invalides. An iconic setting in Paris. The sky is overcast but the gold details on the monument make the setting magnificent. The ambiance is very much relaxed and festive even with the gloomy weather. We are basking in the Formula E ambiance with some live entertainment, crowds, and of course, the pits containing Formula E cars from several teams such as Renault, Audi and Jaguar.
---
Image source : Google
The Paris Circuit is not as complex and winding as many of the other formula E tracks. Take a look at the Maps of the other circuits here.
As the race is about to commence, I take my place in the Grand Stands right at the starting line.
It was not a loud engine rev but rather more of a tire screech with some electrical noises. Certainly didn't need earplugs for this race!
I would be lying if I said I wasn't expecting a little more action. The chicanes were not sharp and the engines did not soar. There was almost no contact in this race between the drivers.
The cars go around the city-circuit totaling one hour with interesting points to observe. As a first-time attendee, I got the chance to observe the drivers change cars about half way through the race, allowing the second, fully-charged vehicle to take on the relay.
It may not be the same type of vibration with fuel-powered races but it was definitely an experience I would recommend as the future is electric and I believe we'll be able to improve many things in the near future. To me, Formula E races are a great incentive in promoting electric drive, given that we are already in 2018 and the future is now.
With the environment deterring every day, whether you believe in global warming or not, there is no denying that companies and individuals are moving towards a "greener" future – as some of the adverse effects from burning fossil fuels have and are still damaging the planet to the point where it's already irreparable, it is important that we can explore different ways of enjoying motorsports without leaving a big carbon footprint on the planet.
These types of events are a great gateway to boost multiple generations' interest in Electric Drive. Everybody was present in the audience, from baby boomers, millennials to young children; a mix of generations were present to witness these moments that play an important role in motorsport and the environment.
An overall captivating experience that can only allow us to promote a green future with the love of speed and adrenaline, in a beautiful city-center setting.
To see the full calendar, click here.
CUTTING INTO THE COUTURE WORLD
Ah yes, couture…my first love. Growing up watching Paris Haute Couture shows has always had me in awe. Intricate designs, hundreds of hours of hand beading, hand stitching that ended in breath taking pieces on the runways.
I studied Fashion Design in Toronto, and decided to pursue a career in Fashion. I have worked in different roles from the modeling industry to national television shows but my curiosity is insatiable. Hence, the plunge to Paris to get a closer feels of the couture universe.
I began with Paris Fashion Week in September upon my arrival to Paris.
Goodbye sleep, hello 3 cups of coffee and M&M's to keep me awake!
What a great experience working alongside a team of hardworking girls and super friendly models.
Next up – Found a job! I decided to remain in the luxury sector.
As Paris Couture Week was coming up, I needed to continue fueling my desire to participate in it hands on. Sure enough, when you work hard and put your mind to it, you can always achieve what you want. The rest is history for me. I am proud to say that I got the chance to work directly behind the scenes in couture. It's not always easy but it is certainly rewarding. You're welcome to refer to my older blog posts explaining more about H.C.
---
Image source : Vogue Runway ( Ralph&Russo Fall 2018 Couture)
The next post will be quite a turnaround from the environmentally-friendly vehicles … it involves a lineup of various car categories going around this world-famous track for about 4977 km…Can you guess what it is?
The 24 Hours of Le Mans.
Please feel free to comment, like & subscribe.
Talk to you very soon!